The Great Underwater Prison Impel Down is the World Government's maximum-security prison for the most dangerous criminals and pirates.
In Pockie Pirates, Impel Down is also a symbol of nightmares. You'll find the most powerful and cunning enemies in it.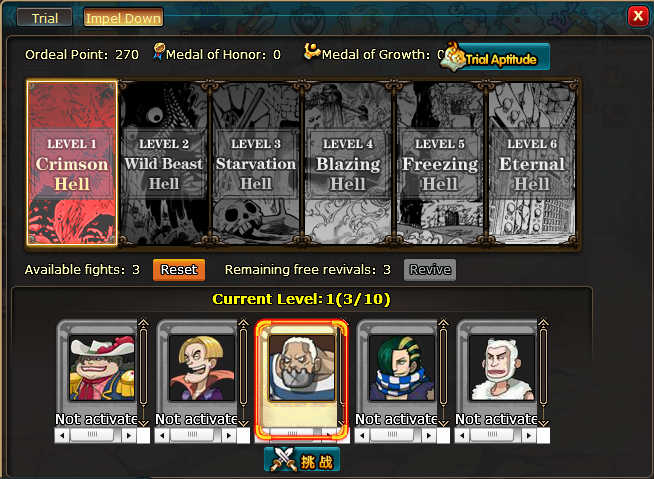 Of course, high difficulty level will bring high rewards. The Trial Point, Honor Medal, Growth Medal can be used to activate the Trial system, enhance character's attributes and become the legendary pirate while marching towards the Eternal Hell.
How to play Impel Down: Click the Trial button in the city to enter Impel Down. Each level of the prison has 10 groups of enemies, the last group is Boss. You have to defeat them before entering the next level. Every challenge will start from level 1. You have to revive if you fail the challenge.
Players can revive for free 3 times during every challenge. After that, you have to pay gold for revival. There's one free challenge per day. Next challenge will cost you 100 gold.
Trial System:
Trial system is designed in the aim o increasing character's stats. Players can get Trial Point, Honor Medal and Growth Medal according to their battle rating in Impel Down.

Click the My Trial Aptitude on the upper right of Impel Down to enter.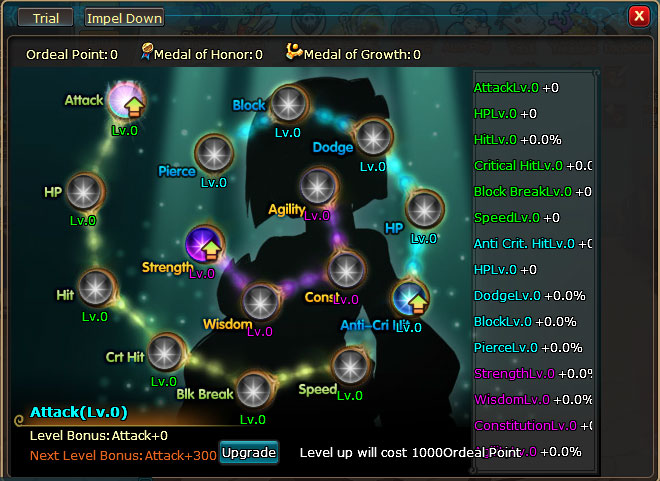 Attribute in the attribute loop has to be lightened in order. However, every attribute loop is independent with each other. Each loop can be upgraded repeatedly. Upgrade the green loop requires Trial Point, the blue loops requires Honor Medal while the purple loop requires Growth Medal.